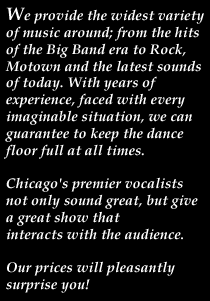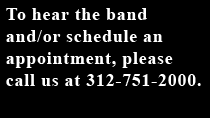 "A party is not a party without Stanley Paul", says the Chicago Tribune. For thirty years, the world's royalty and celebrities as well as Chicago's cognescenti have chosen the Stanley Paul Orchestra to add life to their parties.

Whether appearing at inaugural balls, charity galas, or weddings, the Stanley Paul Orchestra is itself a legend. Its mix of the classics and the latest sounds makes the orchestra the premier choice for major events, year after year. From a single pianist, to strolling violins, to a forty piece orchestra--and every entertaining permutation in between- when people think music, they think Stanley Paul.

Every event, large and small, is put into full swing and made an exciting success with the Stanley Paul Orchestra. From intimate wedding receptions to large corporate gatherings, the dance floor is kept humming at all times. Now, Brides and Party Planners take note ~ this is not your typical "wedding band." Although it may be the most established and sophisticated band in Chicago, it also plays today's new and HOT sounds! And to top things off, three of Chicago's premier vocalists captivate the crowd with rich voices and harmonies. Their versatility in musical styles matches the band's amazing ability to perform all styles of music - big band, swing, ballads, and rock-and-roll. And yes, we are happy to say that you will NOT hear the Macarena, Chicken Dance, or the Hokey Pokey!